Advocacy /
CADSI News
October 17, 2022
Canada's Cybersecurity Industry Sees 30% Growth
​FRENCH FOLLOWS BELOW
OTTAWA – Canada's cybersecurity industry has grown and thrived during a time of serious uncertainty, and is well-positioned to help defend Canada and protect Canadians in cyberspace as new threats emerge.
Innovation, Science and Economic Development Canada (ISED) and Statistics Canada — in close partnership with the Canadian Association of Defence and Security Industries (CADSI), the Council of Canadian Innovators (CCI), and TECHNATION Canada — today released the latest edition of the State of Canada's Cybersecurity Industry Report, based on 2020 year-end data.
This report, produced every two years, shows an industry with a high export volume that is STEM-oriented, R&D intensive, and growing rapidly – with 30% growth in revenues and employment between 2018 and 2020.
The industry is dominated by Canadian-owned firms engaged in cutting-edge R&D. Across many indicators, it outperforms the broader Information and Communications Technology (ICT) industry.
The report also provides insights into the performance of this industry during the first year of the COVID-19 pandemic, the geographic distribution of Canadian firms, related industrial capabilities, and labour force characteristics. The cybersecurity industry's revenues are significantly derived from exports, with close to 80% of those exports accounted for by Five Eyes partners.
"Canada's cybersecurity industry is instrumental in ensuring the safety of Canadians' digital information and the networks which we all rely on," said the Honourable François-Philippe Champagne, Minister of Innovation, Science, and Industry. "Cybersecurity also enables Canadian firms across industries to access global markets securely. A 30% growth in revenues and employment is significant and represents an increase of nearly $900 million in GDP and close to 7,000 jobs."
Calls for Increased Collaboration, Strategic Plans
Christyn Cianfarani, President and CEO of CADSI, said the cyber sector is punching above its weight on the international stage.
"Canadian cyber companies compete, and win, in a fiercely competitive global marketplace," she said. "But we see enormous potential for growth here at home when it comes to the amount of business these firms do with their own government. Currently that accounts for just 8% of revenues."
Nick Schiavo, Director of Federal Affairs of CCI, agreed that "Canada's high-growth cybersecurity sector is filled with homegrown companies punching above their global peers. The government must get behind these companies to sustain this momentum. As we look to the future of Canada's cyber posture, it's critical our governments and security agencies understand the role these firms play in securing both our national and economic sovereignty, and co-develop strategies with industry that spur innovation and economic development in our cyber ecosystem."
Angela Mondou, President and CEO of TECHNATION Canada, noted that "Canada's cybersecurity industry is world-class with an extremely talented workforce; however, our adversaries are rapidly advancing by heavily investing in cyber espionage which poses a threat to Canada's national security. There is an immediate need for Canada's cybersecurity industry, in partnership with government experts, to develop a National Cybersecurity Action Plan to both offensively and defensively manage the critical communication, energy, and public infrastructure. I believe the Canadian government is committed to working in close partnership with industry cybersecurity leaders to ensure the security of all Canadians."
An OECD First
Canada is the first among OECD countries to conduct an in-depth Government Statistical Agency survey on cybersecurity industry capabilities from the supplier perspective, complementary to Statistics Canada's 'Survey of Cybersecurity and Cybercrime' which provides data from a user perspective.
This report will provide industry and policymakers with a comprehensive picture of Canada's cybersecurity industry, allowing them to make better-informed decisions.
Key Takeaways and Statistics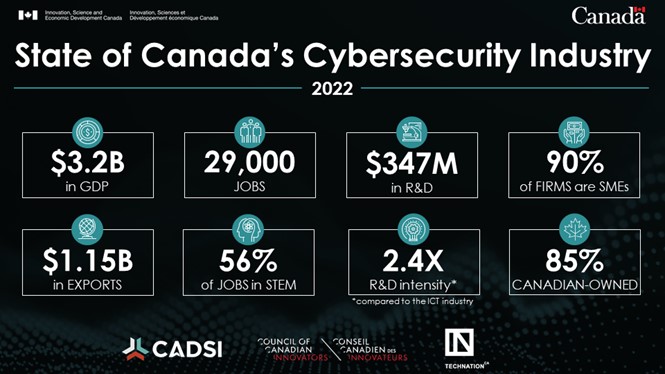 ​​
Growing: The cybersecurity industry saw 30% growth in both revenues and employment between 2018 and 2020, driven by growth in cyber infrastructure solutions. The industry also saw a 35% increase in R&D spending over the same period.
Canadian-led: Of the nearly 500 firms in Canada's cybersecurity industry, 85% are Canadian owned. Canadian-owned firms led revenues (65%), employment (72%), R&D (81%) and exports (77%).
Intensive R&D: The industry's R&D intensity (the ratio of R&D performed relative to its own GDP) is 21%. That's nearly 2.5 times greater than the Canadian ICT industry average, making cyber one of the most R&D-intensive industries in Canada.
Reliance on SMEs: 90% of companies have fewer than 250 employees.
STEM Competency: Over half (56%) of cybersecurity industry employees work in STEM, six times the level of the broader industrial base.
More Information
Monique Scotti, Communications Manager, CADSI
613-235-5337 ext 43
________
L'industrie canadienne de la cybersécurité a connu une croissance de 30 %
OTTAWA – L'industrie canadienne de la cybersécurité a prospéré et s'est développée pendant une période d'incertitude sérieuse, et est bien placée pour aider à défendre le Canada et à protéger les Canadiens dans le cyberespace face à l'émergence de nouvelles menaces.
Innovation, Sciences et Développement économique Canada (ISDE) et Statistique Canada — en étroite collaboration avec l'Association des industries canadiennes de la défense et de la sécurité (AICDS), le Conseil canadien des innovateurs (CCI) et TECHNATION Canada — ont publié aujourd'hui la dernière édition du Rapport sur l'état de l'industrie de la cybersécurité au Canada, basée sur les données de fin d'année de 2020.
Ce rapport, produit à tous les deux ans, montre une industrie avec un volume d'exportation élevé qui est axée sur les STIM, et avec une intensité forte d'R-D, et en croissance rapide - avec une croissance des revenus et de l'emploi de 30 % entre 2018 et 2020. L'industrie est dominée par des entreprises canadiennes qui sont engagées dans une R-D de pointe. À travers de nombreux indicateurs, elle surpasse l'ensemble de l'industrie des TIC.
Le rapport donne également un aperçu de la performance d'une industrie unique au cours de la première année de la pandémie de COVID-19, de la répartition géographique des entreprises canadiennes, des capacités industrielles connexes et des caractéristiques de la main-d'œuvre. Les revenus de l'industrie de la cybersécurité proviennent considérablement des exportations, près de 80 % de ces exportations étant réalisées par les partenaires du Groupe des cinq.
« L'industrie canadienne de la cybersécurité joue un rôle essentiel pour assurer la sécurité des informations numériques des Canadiens et les réseaux sur lesquels nous comptons tous », a déclaré l'honorable François-Philippe Champagne, ministre de l'Innovation, des Sciences et de l'Industrie. « La cybersécurité permet également aux entreprises canadiennes de tous les secteurs d'accéder aux marchés mondiaux en toute sécurité. Une croissance de 30 % des revenus et de l'emploi entre 2018 et 2022 est significative et représente une augmentation de près de 900 millions de dollars du PIB et près de 7 000 emplois. »
Appels à une collaboration accrue et à des plans stratégiques
« Les entreprises de cybersécurité canadiennes sont compétitives et gagnent sur un marché mondial extrêmement concurrentiel », a déclaré Christyn Cianfarani, présidente et chef de la direction de l'AICDS. « Ce secteur fait bien plus que sa juste part sur la scène internationale, mais nous voyons un énorme potentiel de croissance ici au pays en ce qui concerne le volume d'affaires que ces entreprises font avec leur propre gouvernement. Actuellement, cela ne représente que 8 % des revenus. »
« Le secteur de la cybersécurité à forte croissance du Canada est rempli d'entreprises locales qui surpassent leurs pairs mondiaux. Le gouvernement doit soutenir ces entreprises pour maintenir cet élan », a déclaré Nick Schiavo, directeur des affaires fédérales de CCI. « Alors que nous nous tournons vers l'avenir de la cyber-posture du Canada, il est essentiel que nos gouvernements et nos agences de sécurité comprennent le rôle que ces entreprises jouent dans la sécurisation de notre souveraineté nationale et économique, et élaborent conjointement des stratégies avec l'industrie qui stimulent l'innovation et le développement économique dans notre écosystème informatique. »
« L'industrie canadienne de la cybersécurité est de classe mondiale avec une main-d'œuvre extrêmement talentueuse; cependant, nos adversaires progressent rapidement en investissant massivement dans le cyber-espionnage, ce qui constitue une menace pour la sécurité nationale du Canada », a déclaré Angela Mondou, présidente et chef de la direction de TECHNATION Canada.
« Il y a un besoin immédiat pour l'industrie canadienne de la cybersécurité, en partenariat avec des experts gouvernementaux, d'élaborer un plan d'action national sur la cybersécurité pour gérer à la fois de manière offensive et défensive les infrastructures critiques de communication, d'énergie et publiques. Je crois que le gouvernement canadien s'est engagé à travailler en étroite collaboration avec les chefs de file de l'industrie de la cybersécurité pour assurer la sécurité de tous les Canadiens. »
Le Canada est le premier parmi les pays de l'OCDE à mener une enquête approfondie de l'Agence statistique gouvernementale sur les capacités de l'industrie de la cybersécurité du point de vue des fournisseurs, complémentaire à l'Enquête sur la cybersécurité et la cybercriminalité de Statistique Canada (perspective des utilisateurs).
Ce rapport fournira à l'industrie et aux décideurs une image complète de l'industrie canadienne de la cybersécurité, leur permettant de prendre des décisions plus éclairées.
Conclusions principales et statistiques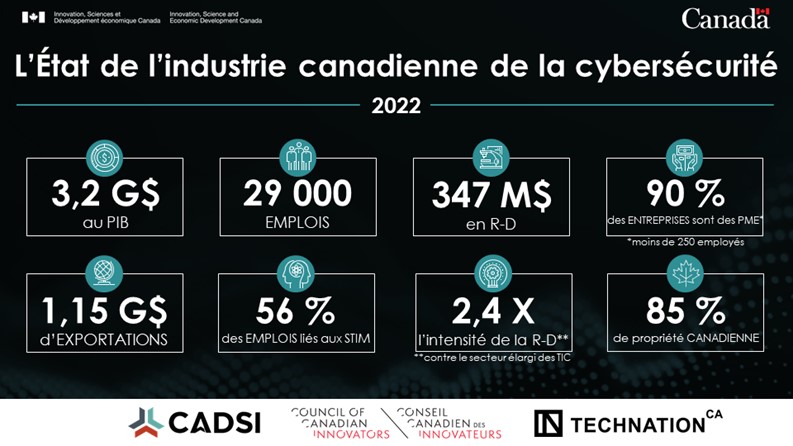 Croissance : L'industrie de la cybersécurité a connu une croissance de 30 % des revenus et de l'emploi entre 2018 et 2020, dirigée par la croissance des solutions de l'infrastructure de la cybersécurité. L'industrie a également connu une augmentation de 35 % des dépenses de la R-D au cours de la même période.
Dirigé par les Canadiens : Parmi les quelque 500 entreprises de l'industrie de la cybersécurité au Canada, 85 % sont des propriétés canadiennes. Les entreprises canadiennes ont dominé les revenus (65 %), l'emploi (72 %), la R-D (81 %) et les exportations (77 %).
R-D intensive : L'intensité de la R-D de l'industrie (le ratio de la R-D effectuée par rapport à son propre PIB) est de 21 %. Ceci est près de 2,5 fois supérieure à la moyenne de l'industrie canadienne des TIC, cela fait l'industrie de la cybersécurité l'une des industries les plus intensives en R-D au Canada.
Dépendance sur les PMEs : 90 % des entreprises ont moins de 250 employés.
Compétence en STIM : plus de la moitié (56 %) des employés de l'industrie de la cybersécurité travaillent dans les STIM, soit six fois le niveau de la base industrielle plus large.
About CADSI
The Canadian Association of Defence and Security Industries (CADSI) is the national industry voice of more than 650 Canadian defence, security and cybersecurity companies that produce world-class goods, services and technologies made across Canada and sought the world over. The industries contribute to the employment of more than 78,000 Canadians and generate $12.6 billion in annual revenues, roughly half of which come from exports. To learn more, visit defenceandsecurity.ca and follow us on Twitter at @CadsiCanada .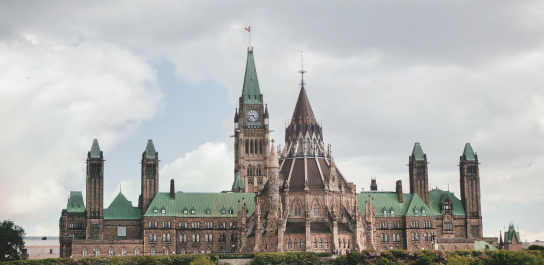 Media Inquiries
Please direct all media inquiries to:
Tel: +1 613-235-5337 x43
The Canadian Association of Defence and Security Industries
251 Laurier Ave. West, Suite 300 Ottawa, ON, K1P 5J6