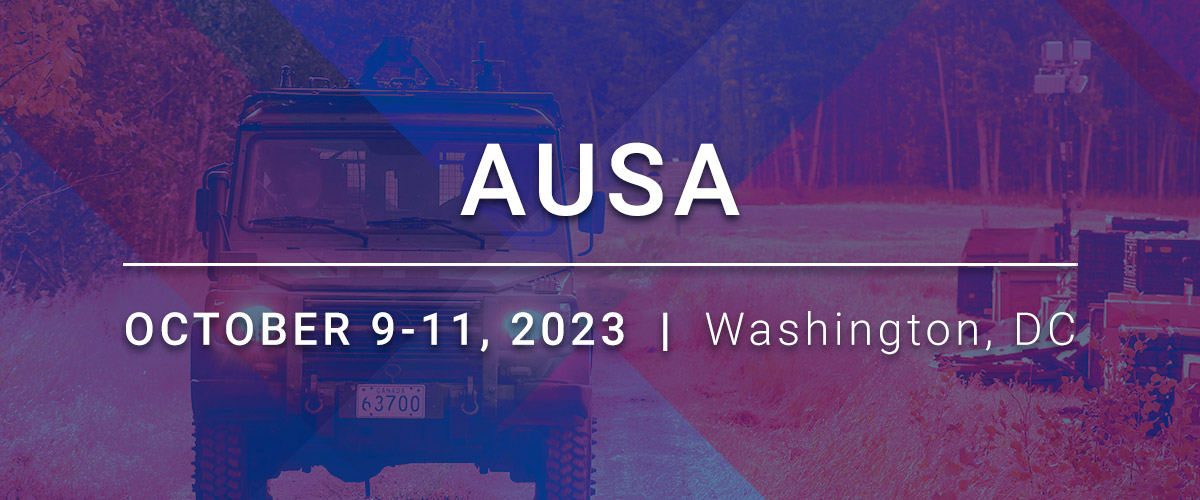 events
AUSA Annual Meeting 2023 - Walker Program
Event Description
Looking to break into or expand your business in the US market?
Join the Canada Pavilion Walker Program for an enhanced AUSA Annual Meeting 2023 experience!

Welcoming over 650 exhibitors and 33,000 attendees from over 80 countries, AUSA Annual Meeting 2023 helps you reach the key US market. By joining the Canada Pavilion Walker Program, you will receive one ticket to AUSA 2023 and reap all the benefits of the Canada Pavilion - Stand Stronger Together.
Open to CADSI Members and Non-Members!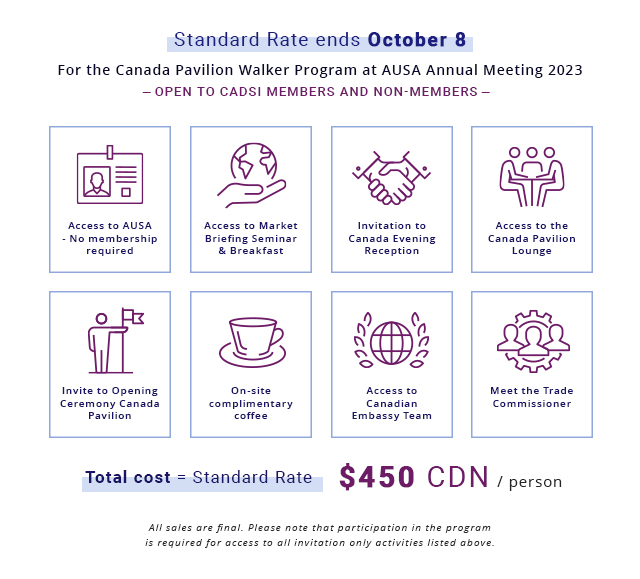 WHY ATTEND AUSA ANNUAL MEETING 2023?
CONNECT WITH OVER 31,000 REGISTRANTS from around the world, including senior Army leaders and top Industry members.
NETWORK WITH FELLOW INDUSTRY LEADERS on the show floor and during social events.
GAIN KNOWLEDGE AND INSIGHT INTO THE US ARMY'S NEEDS so your business can continue to help the Army succeed in a world of strategic competition.
MEET HIGH-QUALITY LEADS AND INTERNATIONAL CONTACTS throughout the event.
BROUGHT TO YOU BY:
Event Details
Register
Add to calendar
Print page
Share
Event fees
Standard Rate - $450 CDN
for CADSI members and non-members. Rate ends October 8, 2023

By participating as a Canada Pavilion Walker at AUSA 2023, your business will unlock access to:
1 x Ticket to AUSA [October 9-11, 2023]
1 x Ticket to Canada Breakfast and Briefing Session [Invite Only]
1 x Ticket to Canada Evening Reception Sponsored by Canadian Commercial Corporation [Invite Only]
Access to Canada Pavilion Lounge as Home Base [Invite Only]
Access to Complimentary Coffee at the Canada Pavilion Lounge [Invite Only]
Access to Canadian Embassy Team
Access to Government of Canada participants
Invite to Opening Ceremony Canada Pavilion
Please note that participation in the program is required for access to all Invite Only activities above.

Contact [email protected] for more information.
Location
Washington DC
Washington DC, United States
Why attend?
WHY JOIN THE CANADA PAVILION WALKER PROGRAM?
The Canada Pavilion is your home base
Invitation-only activities such as the briefing session, Canada Reception and more
Access to Government & Embassy participants
Unlock complimentary coffee