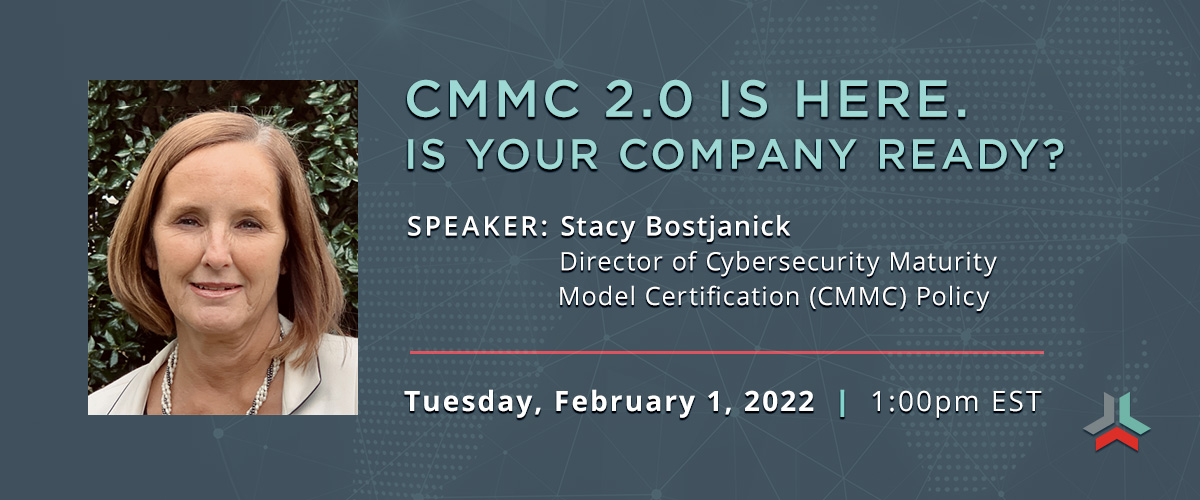 Event Description
DoD Update on CMMC 2.0
What you need to know
Join us for a live webinar and Q&A with Stacy Bostjanick, Director of Cybersecurity Maturity Model Certification (CMMC) Policy, who will provide an update on CMMC 2.0 and its impact on Canadian firms.
Webinar Details
Date: Tuesday, February 1, 2022
Time: 1:00pm to 2:00pm Eastern
Zoom link will be sent after registration closes at 9:00 am (Eastern) on February 1, 2022.
This webinar will:
Provide a brief overview of the changes made to CMMC
Cover the differences between version 1.0 and 2.0
Tell you what Canadian companies can expect when getting assessed
Give you an opportunity to ask questions directly to Ms. Bostjanick
Questions?
If you would like more information, please contact Mindy Pearce, Policy Advisor, at mindy@defenceandsecurity.ca.
Speaker
Ms. Bostjanick is currently serving as the OUSD A&S, Director of Cybersecurity Maturity Model Certification (CMMC) Policy. In this role, she is responsible for managing the initiation of the CMMC program and is responsible for establishing all Policy and Procedures with regard to the CMMC. Previously, she served as the DIA, Head of Contracting Activity in which she was responsible for planning, managing, directing and accomplishing the total DIA procurement program. Ms. Bostjanick has also worked as a Senior Contracting Officer for the Missile Defense Agency on the Standard Missile 3 Block IA and IB development and production program. She was responsible for cradle-to-grave execution of over $5 billion of highly complex, cutting-edge contracts for the United States' missile defense systems.
Event Details
Register
Add to calendar
Print page
Share
Event fees
This webinar is complimentary for CADSI members and government.
This webinar is not open to the media.
Why attend?
Learn about the key differences between CMMC verision 1.0 and 2.0 and how your company will be impacted.